For centuries, residents of the Ningxia district of northern China have enjoyed the astonishing health and longevity supporting benefits of the wolfberry that grows there.* However, due to the Ningxia region's physical and political isolation, knowledge of this potent superfruit remained relatively hidden from Western culture—until recently.
In 1993, as Young Living Founder, President, and CEO D. Gary Young was traveling the world seeking the natural secrets of life, energy, and vitality, he was introduced to Chinese scientist Dr. Songqiao Chao. Dr. Chao told Gary about a delicious berry that had been prized for thousands of years in China for its powerful health supporting benefits.* He further explained that the people who regularly ingested this berry led remarkably long and healthy lives.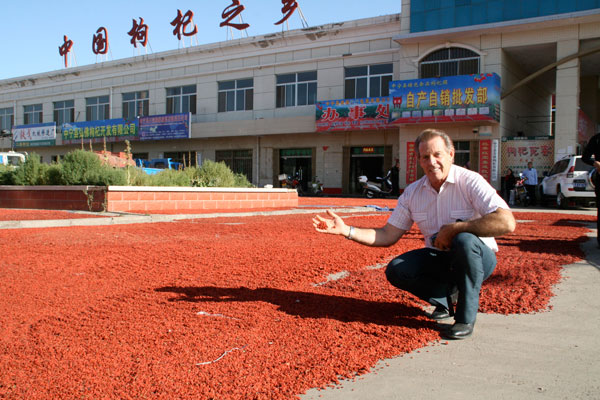 While in China, Gary also learned that Chinese biochemists at the Ningxia Institute of Nutrition had analyzed the wolfberry and found it to be one of the most nutrient-dense foods on the planet. Gary became convinced that this superfruit needed to be made available to the world.
By combining the wolfberry with pure essential oils, Gary created the world's foremost functional beverage, NingXia Red®. One of Young Living's most popular wellness supplements. It contains vital nutrients that may be missing or low in many modern diets and that could be the key to experiencing abundant wellness and energy. It is the perfect way to start the day.
NingXia Red® contains the puree from the whole Ningxia wolfberries. We use all of the valuable parts—the juice, peel, seeds, and fruit—to ensure that each bottle contains the optimal blend of nutrients offered by this extraordinary fruit. It contains every essential amino acid and contains 13 percent protein, the highest protein content of any fruit. Ongoing research continues to support the wolfberry's health-promoting properties.
NingXia Red® is a nutrient-rich drink infused with antioxidant-providing superfruits and powerful essential oils. Antioxidants are nutrients, such as vitamins, minerals, and enzymes, that help fight off the damaging effects of free radicals. The body experiences a natural phenomenon called oxidation every day, which can produce harmful byproducts called free radicals. If left uncontrolled, these free radicals can damage cells, much like the chemical reaction that takes place when a half-eaten apple turns brown. Free radical damage can be accelerated by pollution, stress, toxins, smoking, and alcohol.
The NingXia Red® formula also uses Orange, Tangerine, Lemon, and Yuzu essential oils, all containing rich and powerful d-limonene, enhancing the flavor of every bottle of NingXia Red.
Gary D. Young and Ningxia Red Wolfberry Juice - Part One &
Two
Published on Oct 30, 2008
Several years ago, Gary Young introduced the Chinese Ningxia wolfberry to the world. Watch Gary and other experts explain the history and health benefits of this amazing nutritional fruit.
In part two, Gary Young continues the history and health benefits of the
Chinese Ningxia Wolfberry (goji).
NingXia Red Works in your blood in 15 Minutes!


How do you get started?
If you're NOT already a wholesale member with Young Living and totally want to experience the amazing benefits of Ningxia Red, you've got 2 options:
Option 1:
Become a
Wholesale Member with Young Living by purchasing a Premium Starter Kit
(Choose an Essential Oils Kit, NingXia Red Kit, Thieves Kit OR a Savvy Minerals Kit)
– from there, you'll have access to #AllTheNingxia at 24% off for life. Pretty sweet, right?
This Starter Kit includes favorite NingXia Red products, including our top-selling cognitive fitness booster, NingXia Nitro™!
Kit includes:
NingXia Red 2-pack
30 NingXia Red Singles (2 fl. oz. ea.)
NingXia Nitro
5-ml Stress Away™
AromaGlide™ Roller Fitment
10 Sample Packets
10 Love It? Share It! Sample Business Cards
10 Love It? Share It! Sample Oil Bottles
2 NingXia Red 2-oz. samples
Product Guide and Product Price List
Essential Oil Magazine
Essential Edge
Member Resources
Now, when you go to select your kit, you'll see these tabs. Be sure to select the tab "Other Premium Kits" to be taken to the Ningxia Starter Kit. Follow the prompts and check out.

Option 2: Order Ningxia Red at retail. You can do that here as well. I would start with at the very least a combo pack (item #4710) or 4-pack (item #3044) – because you want to be drinking at a MINIMUM, 2 ounces a day. The downside of this option (purchasing at retail), you'll pay 24% more than you need to. Becoming a Wholesale Customer is the best bang for your buck – and you're not required to order every month (or ever again, for that matter). You can simply get your Ningxia Red Premium Starter Kit right here at wholesale and never order again, if you so desire (but I doubt that will happen!).
Signing up for a Young Living Wholesale Membership allows you to get these great products at a 24% discount! Included with your membership are the following FREE perks*:
A welcome gift package from me

Secret Facebook support groups

Online classes

Contest & Giveaways

Personal mentoring & one-on-one support

Optional business training
I will teach you how to use your essential oils for the best DIY products for cleaning, bath & beauty, pet care, and more!
*Free perks only available when signing up for a membership under my personal member number. Please double-check that the number, 3212642, is in both the "enroller" & "sponsor" fields when signing up.
Purchase of a
Premium Starter Kit
or
Basic Starter Kit
is required to receive wholesale prices, (24% off retail prices), or you may sign up with a
Retail Account
, if you prefer to only purchase NingXia products without a discount.
ATTENTION! This PDF file is 164M. If it's too large to download, you can view it here, instead.
**Prices shown in graphic are WHOLESALE prices**


Now, before you tell me that you can't afford it, keep in mind that you are purchasing your entire month's supply. How much would it cost to pay for an entire month's supply of lattes, nasty soda, or fast food? And consider the cost of NOT investing in this whole food infusion of wellness! Co-pays and time wasted at the doctor's office? Missed days of work?? No thank you.
Want to save even MORE money, and earn FREE NingXia or other YL products??? Sign up for our Essential Rewards Program when you purchase your starter kit!!
Ok, let's do this. If you've been with me for a while, you KNOW I don't stand by ANYTHING that does not work wonders for me and my family's wellness. Trust me when I say, you will not regret this. And the best part, Young Living offers a RISK-FREE guarantee! If for WHATEVER REASON, you don't love what Ningxia Red does for you and your family, simply contact customer service to request a return!
If you're interested in MORE NingXia products, Young Living also carries NingXia Zyng & NingXia Nitro!